Why visit?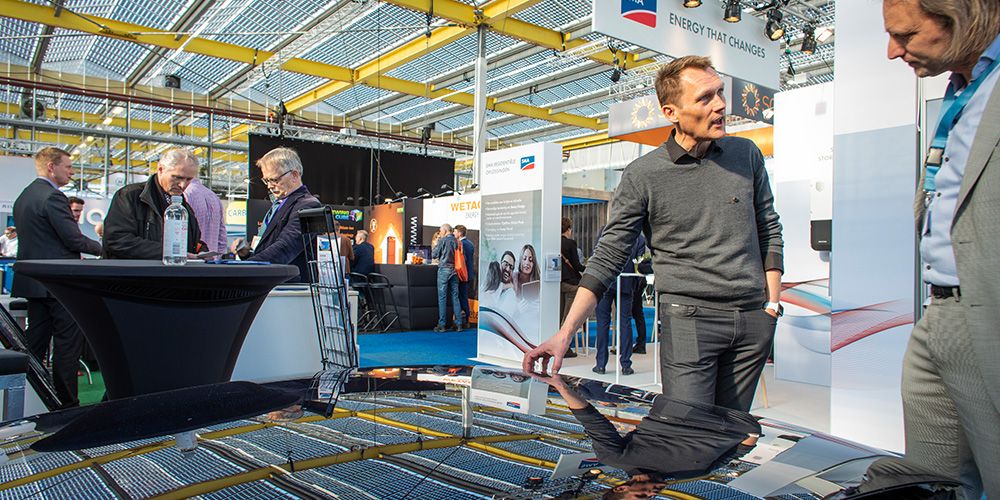 Solar Solutions: the technology of tomorrow, today
The solar energy market has experienced unprecedented growth in recent years. More and more consumers, companies and institutions have meanwhile installed or are planning to install solar panels. The scale is now there, but what is the next step? At Solar Solutions International we look at the many possibilities, from storage to smarter houses.
Solar Solutions International is the largest solar energy trade fair in North-West Europe and therefore the perfect place to take a look at the future of this sector. With over 250 exhibitors, more than 80 speakers and around 100 seminars, truly every aspect of solar energy is covered. And that is more important than ever for both installers and end users.
Do you want to know more about sustainable heating in addition to sustainable energy generation? The Green Heating Solutions trade show is held at the same time as Solar Solutions International. This way you can immediately discover various practical applications of solar energy.
Register now
Beautiful panels, smart homes & more
Solar Solutions International is the authority when it comes to solar energy. And now the solar energy market can no longer be labeled as a niche, it is time to look further ahead. Solar Solutions International is therefore going in deep, with a new focus on energy storage, smart homes and aesthetically attractive products.
Because now that more and more consumers and companies are starting to work with solar panels, it is for example more relevant than ever to offer solar panels with their own attractive design. And with network capacity limitations, people's own energy storage becomes more of a requirement than a luxury. Additionally, it is important to point out the multitude of applications of solar energy; think of electric cars, heat pumps and more. Because all of the energy that you use immediately is basically profit.
View the exhibitor list
With all these developments, installers must also advise more than ever in addition to installing. Thanks to the 250+ stands and more than 100 seminars, Solar Solutions International is the time to get up to snuff as a professional with regards to the latest technology and innovations. This way you can provide your customers with the best and most relevant information. This includes themes such as the installation of solar panels, service packages offered by energy providers and who is responsible when it comes to grid capacity.